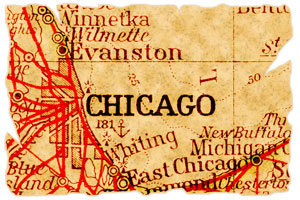 Chicago is made up of neighborhoods to the north, west, and south. Each neighborhood carries its own distinct charm, including the stately Oak Park, bustling Chinatown, flavorful Greektown, and the attractive Ukrainian village. Many older neighborhoods have been rehabilitated but crowding, crime, and urban sprawl are still issues to contend with. The downtown area, known as the Loop, is the city's main business district and prides itself in a beautiful shoreline and elevated public transit trains.

Brutally hot in the summer and extremely cold in the winter, Chicago's temperatures are somewhat moderated by the lakeshore. The Chicago River runs through the heart of downtown and visitors can take a river boat tour during the spring and summer months. Chicago is one of the country's most prominent transportation hubs and is easily accessible by train, bus, or airplane to Midway or O'Hare Field.

Chicago River at Night (Time Lapse)

This Chicago directory provides convenient access to a broad spectrum of enterprises that are located in Chicago, Illinois. In-depth information and news about Chicago can be found on these regional Chicago Libraries and Chicago Newspapers pages, respectively Visitors to Chicago will find this Choose Chicago website useful.
---
Copyright © 2012-2023 Zeducorp.
All rights reserved.

Interactive Maps of Chicago